Why Choose Wiggles n Wags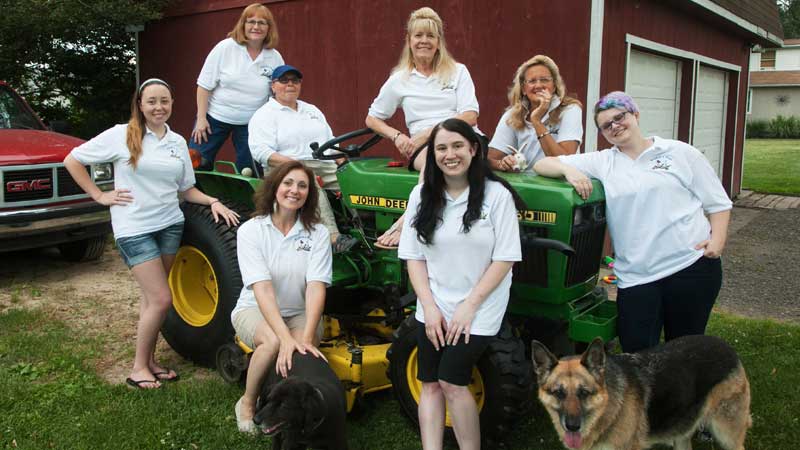 Pet Care Experts:
As a professional pet care business established in 2011, we are dedicated to you and your pets. Our goal is to provide superior pet care and excellent customer service, to positively enhance the busy lives of our clients. We aim to create peace of mind by ensuring that all pets are being cared for with exceptional and individualized attention that they deserve, in the comfort of their own home. We are certified in animal CPR and First Aid through PetTech, have experience with medication administration, and providing post-operative care.
Pet Care for All Varieties and Species:
We are experienced in caring for all kinds of pets – from dogs, cats, rabbits and birds, to chinchillas, reptiles and farm animals. We love them all! Your pets will receive the best possible care, because we follow YOUR pet care instructions and routines, in your own home.
Satisfaction is Guaranteed:
If you are not completely satisfied with our services, please do not hesitate to contact us right away so that we can address your concerns. We always aim for 100% satisfaction!
Personalized Care – Service as YOU Want it:
Before providing your first day of pet care, we schedule a complimentary Meet and Greet consultation to learn all about your pet, your family, household routines, dietary and medicinal needs. This is very helpful to talk through together so we can determine how to best customize our visits with your pet while you are away. Following your routines closely will ultimately provide as much comfort as possible for your pet.
We have chosen to offer custom care times to meet you and your pet's needs, versus generic and vague blocks of time (such as morning, afternoon, evening, etc.) Again, our focus is on your pet's comfort and needs above all else.
Everyone is provided with two pet sitters to care for your pets; your primary sitter, and another fully cross trained sitter. We always cross train another team member to provide backup care if your sitter is unavailable, enabling us to provide you with seamless service.
We fully recognize that life happens, so we will always adjust our scheduled services whenever possible. This includes adding and changing visits, or cancelling a visit that is already scheduled, all without additional fees. With that said, we fully appreciate the opportunity to be given as much advanced notice as possible so that we can reschedule our sitters to provide care to another pet family.
Pet Care Diary:
When you arrive home, you will have a wonderful handwritten diary entry waiting for you from your sitter. These diary entries detail what your pets were up to while you were away, any health concerns that might be brought to light during our visit, and what pet and home care was provided in your absence. This is also a great way for you to leave your sitter a quick note about your pet, or to ask questions about a visit. Yet another great vehicle for communication between us!
Bonded, Insured, and Members of Elite Pet Sitter Organizations:
Wiggles n Wags is a registered professional pet care service in the state of Pennsylvania. Every one of our highly trained pet care employees are insured and bonded. We are also proud members of Pet Sitters International (PSI) and National Association of Professional Pet Sitters (NAPPS).
Thorough Screening Process
All of our sitters go through a thorough screening process before being hired as one of our employees. All sitters authorize a personal and work reference check, and a 50 state criminal background check. They are questioned, interviewed, and trained prior to providing any care services to our clients. We check in on our employees on a consistent basis, and seek to provide additional training and continuing education to keep everyone fresh with new skills and innovations available in the pet care arena.
Business Office Hours and Pet Care Service Availability
Pet Care Services
Office Hours
Everyday: 7am – 8:30pm
Monday through Friday: 8am – 6pm
Saturday: 8am – 12pm
Sunday: Closed
**Text messages, voicemail and email messages are monitored during non-business hours in case of emergency.
12 Hour Sleepover Care
Everyday: Typically 7pm-7am or 8pm-8am

24 Hour In-Your-Home Care
Everyday: Times customized to fit your needs

Post-Operative Care
Monday through Friday: 7am – 6pm, scheduled in four-hour increments

We proudly respond to phone calls, text messages, and emails in less than 24 hours, however reservations are necessary. We do accept last minute reservations, however we do appreciate the opportunity to be given as much advanced notice as possible so that we can adjust our schedules and secure a sitter for you.
Service Area:
Buckingham, Chalfont, Colmar, Doylestown, Furlong, Hatfield, Horsham, Jamison, Lansdale, Line Lexington, Montgomery Township, New Britain, North Wales, Warminster, Warrington.
Are you living outside our service area?  No worries!  Please reach out to us for availability.  We look forward to hearing from you!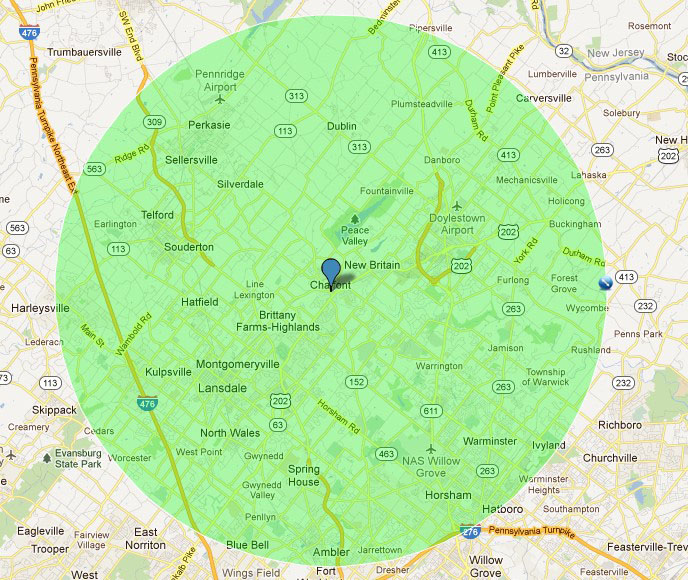 12 and 24 Hour In-Your-Home Overnight Pet Care and 4-Hour Post-Operative Care:
One of the biggest benefits of in-your-home care is that your pet is able to stay in their own familiar and secure environment, where they are comforted by all of the same smells and sounds they are used to being around. Exercise and meal routines are followed without interruption, so pets will avoid exposure to "Travel Trauma," "Boarding Blues," or other illnesses, reducing stress for your pet and you while you are away.
We offer three forms of in-your-home-care:
12 hour care – typically 8pm – 8am (overnight only.) This includes a potty break before bed, and breakfast, potty break and a nice walk in the morning.
24-Hour Care – this service is available every day, beginning and ending at the times you have requested. Our sitters are there around the clock to care for your pets and home, keeping everything running as usual in your absence. Your pets will remain on their normal daily routines with meals, walks, playtime, and more!
Post-Operative Care – this special service includes hand-feeding, monitoring food and
water intake, constant supervision to ensure your pet does not remove sutures, transportation services as needed, and more. Post-operative care hours are 7am – 6pm Monday through Friday, and scheduled in four-hour increments.
** Please Note: Summer and holidays are our busiest times, so please reach out as far in advance as possible to reserve pet sitting care.
No Extra Fees:
We prefer to focus on providing the best pet care available, versus "nickel and diming" our clients. We do not charge extra fees for cancellations, less than 24 hour requests for visits, or for providing medication to your pets. However, please note that if a pattern emerges that we feel has become misuse of our time and services, we reserve the right to institute a fee for our client per occurrence going forward.
Employees:
Our sitters are amazing! They are all responsible, trained, loyal, and mature pet-owning and loving adults. They get to spend their days and nights with the most amazing pets around; YOURS! Every sitter with Wiggles n Wags is an employee, which means that they receive our full support, backup, and training. Having employees instead of independent contractors leads to greater retention and consistency, which helps build lasting partnerships. Ultimately, this is best for your pet, you and us. Trust us when we say that you WILL become very attached to your sitter!
No Minimum Visit Requirements:
We know that our clients have very busy lives, and schedules can change at the speed of light. We will happily work with you and your pet one day, one month, or one year and beyond. Whenever you need help with your pet due to busy schedules, we will be here for you! We have no minimum visit requirements.
Pet Emergency Procedures in Place:
We are residents of YOUR community, so if an emergency were to arise while your beloved pet is in our care, we will know exactly what to do. Our emergency procedures are in place based upon the relationship you have with your own personal vet, as well as the nearest emergency vet locations in your area.